11.02.11
Articles, webpages where I've been quoted:
---
ELLE.fr - "Fashion pour les fêtes !"
http://www.elle.fr/Blogs/news-blogs/Fashion-pour-les-fetes-1852472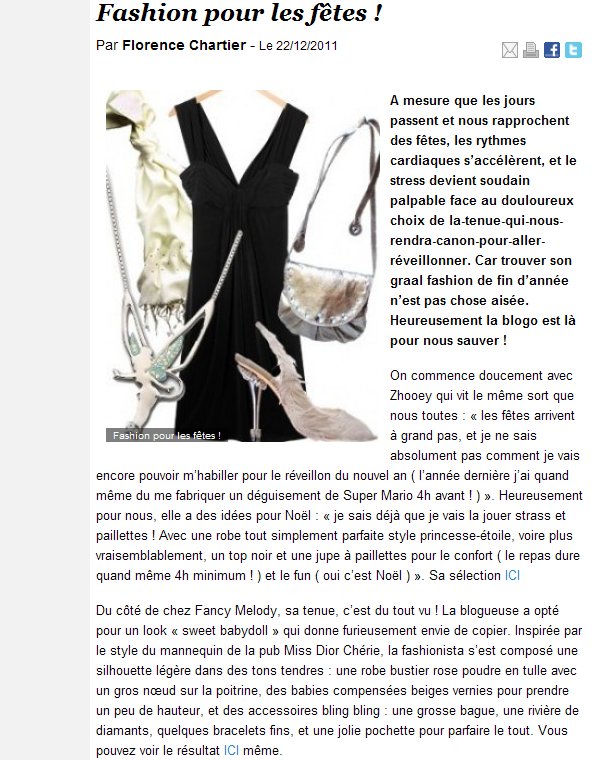 "Du côté de chez Fancy Melody, sa tenue, c'est du tout vu ! La blogueuse a opté pour un look « sweet babydoll » qui donne furieusement envie de copier. Inspirée par le style du mannequin de la pub Miss Dior Chérie, la fashionista s'est composé une silhouette légère dans des tons tendres : une robe bustier rose poudre en tulle avec un gros nœud sur la poitrine, des babies compensées beiges vernies pour prendre un peu de hauteur, et des accessoires bling bling : une grosse bague, une rivière de diamants, quelques bracelets fins, et une jolie pochette pour parfaire le tout. Vous pouvez voir le résultat ICI même."
English translation: "At Fancy Melody's, her outfit is all made! The blogger has opted for a "sweet babydoll" look that furiously make us want to copy. Inspired by the style of the model from Miss Dior Cherie's advertising, the fashionista has made a light silhouette in soft tones: a pink powder baretop tulle dress with a big bow on the chest, beige patent leather Mary Janes to be higher, and bling bling accessories: a big ring, a diamond necklace, some tiny bracelets, and a nice clutch to complete the whole outfit. You can see the results right HERE."
---